(cannonical picture i played around with filters/etc on)
-:Bhaal, the Lord of Murder:-
Status:
Greater Power Deity
Symbol:
A white, face-on human skull surrounded by a counter-clockwise orbit of many streaming teardrops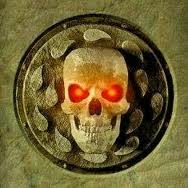 Home Plane:
formerly The Barrens of Doom and Despair
Alignment:
Lawful evil
Portfolio:
Death, especially violent or ritual death
Worshipers:
Assassins, cultists, monks, necromancers, sadists
Cleric Alignments:
LE, LN, NE
Domains:
Death, Evil, Fate, Law, Suffering
Favoured Weapon:
Bone dagger (dagger)
Chosen Champions:
Bhaalspawn
Spoiler:
Bhaal
Rogue 20/Fighter 10/Assassin 10
Race:
Outsider/Divine? (originaly human)
Human-Sized Model after picture!Divine Rank:
13 (+13 to everything simply put)
HP:
5891 hp
Initiative:
+999 (always First)
Speed:
Highest?
AC:
85 (+25 Dex, +13 divine, +26 natural, +11 deflection)
Attacks:
+5 keen, wounding, unholy, ghost touch dagger
+84/+79/+74/+69 hit
Damage:
+5 keen, wounding, unholy, ghost touch dagger 1d4+19/19-20/x2; or by spell.
Special Attacks:
Domain powers, salient divine abilities, spell-like abilities.
Special Qualities:
Crippling strike, death attack, defensive roll, divine aura (1,300 ft., DC 34), divine immunities, DR 48/+5, evasion, fire resistance 33, improved evasion, opportunist, plane shift at will, poison save +5, poison use, remote communication 13 miles, sneak attack +18d6; spontaneous casting of divine spells, SR 45, teleport without error at will, uncanny dodge (Dex bonus to AC, canít be flanked, +4 against traps), understand, speak and read all languages and speak directly to all beings within 13 miles.
Saves:
Fort +56, Ref +80?, Will +55
Abilities:
Str 48, Dex 68, Con 28, Int 39, Wis 28, Cha 48
Skills:
Alchemy +63, Appraise +63, Balance +70, Bluff +64, Climb +65, Craft (blacksmithing) +63, Craft (poisonmaking) +63, Craft (trapmaking) +63, Diplomacy +64, Disguise +64, Escape Artist +68, Forgery +63, Gather Information +64, Hide +68, Innuendo +61, Intimidate +64, Jump +67, Knowledge (arcana) +63, Knowledge (the planes) +63, Knowledge (religion) +63, Listen +63, Move Silently +68, Profession (herbalist) +61, Read Lips +63, Search +63, Spellcraft +63, Spot +63, Tumble +72.
Feats:
Alertness, Ambidexterity, Arterial Strike, Blind Fight, Blindsight, Combat Reflexes, Dodge, Dirty Fighting, Expertise, Flick of the Wrist, Greater Two-Weapon Fighting, Improved Critical (dagger), Improved Disarm, Improved Initiative, Improved Trip, Improved Two Weapon Fighting, Mobility, Point Blank Shot, Precise Shot, Quick Draw, Quicker then the Eye, Spring Attack, Superior Expertise, Twin Sword Style, Two Weapon Fighting, Weapon Finesse (dagger), Weapon Focus (dagger), Weapon Specialization (dagger).
Divine Immunities:
Ability damage, ability drain, acid, cold, death effects, disease, disintegration, electricity, energy drain, mind-affecting effects, paralysis, poison, sleep, stunning, transmutation, imprisonment, banishment.
Salient Divine Abilities: Alter Form, Alter Reality, Alter Size, Avatar, Battlesense, Divine Blast, Divine Rogue, Divine Sneak Attack, Extra Domain (Fate), Extra Domain (Law), Frightful Presence, Hand of Death, Irresistible Blows, Mass Divine Blast, Supreme Initiative, Wound Enemy.
Domain Powers:
13/day death touch; cast evil spells at +1 caster level; cast law spells at +1 caster level; 13/day pain touch.
Spell-like Abilities: Bhaal used these abilities as a 23th-level caster, except for evil and law spells, which he used as a 24th-level caster. The save DCís are 34 + spell level. animate dead, augury, bane, bestow curse, blasphemy, calm emotions, cause fear, create greater undead, create undead, death knell, death ward, desecrate, destruction, dictum, dispel chaos, dispel good, endurance, enervation, eyebite (sicken effect only), feeblemind, foresight, geas/quest, harm, hold monster, horrid wilting, magic circle against chaos, magic circle against good, mark of justice, mind blank, orderís wrath, protection from good, shield of law, slay living, status, summon monster IX (as evil or law spell only), symbol (pain effect only), true strike, unholy aura, unholy blight, vision, wail of the banshee.
Assassin Spells/day: 5/5/4/3 (levels 1-4); base DC 20 + spell level.
Possessions:
Bhaal conjured many bone daggers when he was drawn into a fight. These functioned each as (/i)+5 keen, wounding, unholy ghost touch daggers which he threw as easily as he thrusted with them.
Caster level: 25th; Weight: 1 lb.
Other Divine Powers
As an greater god, Bhaal automatically receives a 20 on any check. He treated a 1 on an attack roll or saving throw normally and not as an automatic failure and was immortal before he died during the aftermath of the Time of Troubles. His corpse now lies in the astral plane.
Senses:
Bhaal was able to see, hear, touch and smell at a distance of fourteen miles. As a standard action, he could perceive anything within fourteen mile of his worshippers, holy sites, objects or any location where one of his titles or name was spoken in the last hour. He could extend his senses to up to ten locations simultaneously. He was able to block the sensing powers of deities of up to his rank at two such remote locations at once for 10 hours.
Portfolio Sense:
Bhaal was automatically aware when anyone is murdered, dies of unnatural causes (this includes magic) or is ritually killed.
Automatic Actions:
Bhaal could use Bluff, Craft, Diplomacy, Hide, Intimidate and Move Silently as a free action, if the DC for the check was 25 or less. He could perform up to ten such actions per round.
Create Magic Items: As Bhaal was the god of murder, he could create any unholy item, or any item that can be used to kill someone as its primary function, as long as the itemís price did not exceed 200,000gp.
Avatars
:Bane did not come to the Realms often, but when he did, he always appeared in a form named the Slayer in urban environments. The Slayer looked like a male corpse, with a ferocious visage, bone-white skin and deep lacerations from which black ichor endlessly came forth. The Slayer was able to conjure an infinite number of daggers.
In more remote settings, such as the Moonshaes, he appeared as a huge man, the Ravager. This gigantic form had tough sinews, a flowing beard and a mane of hair, eyes with a fire of hatred burning in them, supernatural hatred that also shows on his grimacing face. From his forehead two 7-foot-long horns jutted, curving backwards. The Ravager was a weapon of mass destruction, and he favoured attacking with his massive fists.
Dogma:
Bhaalists believed that every murder commited strengthened holy Bhaal. As a result, they viewed murder as both a pastime and a duty. Bhaalists were required to deal death once in every tenday during the darkest period at the heart of the night. If imprisonment or other constraining circumstances made this impossible, they had to murder twice for each death missed. In accordance with the Lord of Murder's teachings, Bhaalists strove to ensure before they died, murder victims knew who was killing them and that their death was in the name of Bhaal. Novices of Bhaal were charged as follows: "Make all folk fear Bhaal. Let your killings be especially elegant, or grisly, or seem easy so that those observing them are awed or terrified. Tell folk that gold proffered can make the Lord of Murder overlook them for today".